Automatic Eggbeater Easy Whisk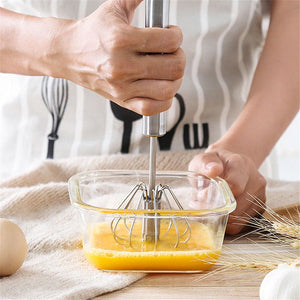 Automatic Eggbeater Easy Whisk
Regular price
$38.98
Sale price
$28.98

No more wrist-twisting! Saves effort and time! The self-rotating semi-automatic hand push Whisk will have you easily blend and mix ingredients in no time. Our whisk beater is a practical kitchen tool that is useful in both home, hotel, restaurant.

Mix everything in a stress-free ambiance and also great for shaking or stirring cocktail and coffee. It beats, blends, mixes and emulsifies food easily. Perfect for an omelet, dips, and a lot more.

It saves effort while gets the work done much faster than the ordinary whisk without using electricity or battery. The whisk is made of stainless steel that doesn't easily bend and break with regular use.

Features:
- Self Mixer Whisk: Effortless spin whisk
- Efficient Whisk Blender: Fast mixing or blending, 3-5 eggs will be whisked evenly in a few seconds.
- Multi-functional Whisk: For whisking, whipping, and frothing for coffee drinks, or more like milkshakes, whipped cream, salad dressings, gravies, sauces, mayonnaise, meringues, baking beater, butter stirrer and much more.
- Smart Magic Whisk: No batteries or electricity needed.
- Sturdy Kitchen Whisk: Made of food grade stainless steel, durable.
- Easy to clean, just clean in soapy water, rinse and pat dry.
Similar products
Customers who viewed this item also viewed